How Can I Start?
The truth is, I really do not know how.
*but on a low key, let me quickly announce that I just got nominated for the Travel Blog Awards 2017*
Still do not know why I was considered (looking at my inconsistency and the fact that the blog launched just a year ago) but all I want is for you to initiate/validate your support by voting for me below.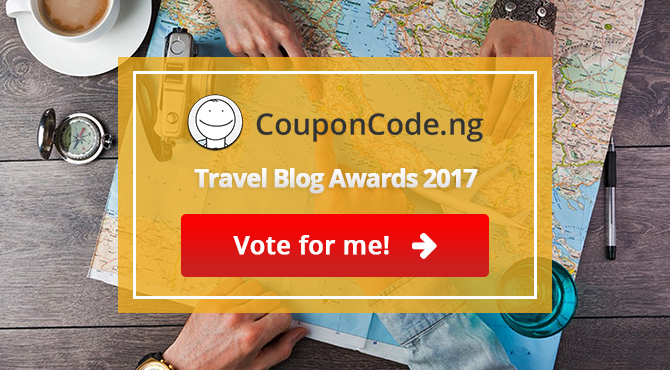 How It All Started 1 year ago in Unilag
It was around 10:58pm, room 306, King Jaja Hall.
I paid no attention to the heated debate going on in our stuffy room as two factions (with 8 members each) argued about which was a better way to die between plane crash and getting hit by a train.
My heart pounded slowly as every beat sent scary messages to my brain.  With my forehead gently placed inside my left palm, I managed to calm myself. My mini Acer laptop stared helplessly at me with its rays illuminating my corner of the room as the debaters' voices grew fiercer. I knew if objects were permitted to talk, the computer would have scolded me to send the mails which I had composed many hours earlier to notify few of my class mates about my proposed move of starting a travel blog. For close to 5 minutes, I asked myself if it was what I really wanted. That night was a remarkable night to say the least.
I finally sent the mails to 11 of them at the promised time of 11pm, closed the laptop immediately after the last one before placing my head gently on the folded towel beside me (which also doubled as my pillow). The intent was to sleep and wake up to the replies before noon but the scary thoughts wouldn't just stop their aimless pacing.
When my phone beeped few minutes later, I knew instantly that that was the first response. My level of fear doubled, then tripled after the second response whilst reading the first… till the fear became immeasurable. At this point, the debaters have settled by agreeing such a topic is dangerous as they don't know the type of angel that might be passing.  "How will people believe this much in a fellow being?" I asked no one in particular as the 3rd mail landed.
See for yourself
This journey wouldn't have started without these beautiful souls *blows kiss*
It was really a humbling moment. I had only asked for support and what I got was far more.
The Night I Launched Nomadic Negro
I had been nominated alongside Tobi Lenson for an award then as the most social male in the department of Economics UNILAG (which I emerged the first runner-up not because I wasn't social but largely because he is a fine hot dude). I felt bad like anyone would about losing but the joy of wanting to launch my blog that same night quickly overwhelmed the pain.
The reception was more than encouraging as the crowd cheered and applauded while I read out the url. I must admit that was my most memorable part of that night even though I danced, drank and devoured like I hadn't done before.
Work continued on the blog afterwards but not without the help of some fantastic people who stopped at nothing in ensuring the dream didn't remain a dream.
Here Is My Vote Of Thanks
To:
My mum, for allowing me spend more than 1/3 of my life outside home. In her words.
"Out there is the best place you can really learn. come home only when you find survival difficult."
I love you mum.
Damola, was my landlord who allowed me squat with him from my 2nd-4th year in Unilag (while we spent my hostel money on food and more food).
My friends from Fss gist who stopped at nothing to help promote the brand within Unilag.
Jide of Gistreel is one guy I'd not forget in a hurry. He helped fixed the outlook of the blog to make it more user friendly.
Moses helped with deciding the blog's name when ideas weren't coming, and I'm yet to regret going with that name.
Simiat and Maryam collected nothing for the editing many of my posts (so wherever you read any error-free post, just know either of them worked on it).
Akin, Funmi, Phillips, Lotana, Zainab, Dare, Papuz, Ibidunni and Tobiloba
Were solely responsible for sponsoring my trips to Badagry and Ogun state. These Guys were the brains behind how I got the money to buy my first digital camera while Ekene the photographer Joined more money. Funmi, your relentlessness in ensuring this dream doesn't die is one I will never forget. I'm not even surprised you are where you are today.
Joseph Dalley, Aisha mundi, Florence Dairo, Ope, Jimoh Olayinka, Biola Gbemisola and Adedayor, Thanks for the support and noise you make on my behalf whenever a new post is released.
Ajala Yemi was the first person who shared my post on twitter (this was when the post about my trip to Olumo Rock got featured on Nairaland's front page). I really appreciate you bro. You mightn't know what that means to me.
Funmise is one girl I will like to still meet in person. She wakes in the middle of some nights to just chip in suggestions and encouragements.
My Hosts
These guys are the inspiration behind the post I wrote about Why it is always to stay with a host than in a hotel.
Damilare Oletubo, for the sacrifices he made all through my stay when I explored Ogun State
Peter Segbenu had to suspend all he was doing just to ensure I achieved all I came to do in Badagry.
Adeniyi, went out of his way to make me have a more positive perception about Osun (despite the anyhowness of their governor) while Noble Davies replicated the same feat when I visited to the east.
To the duo of Abu and Olutayo , I say a big thanks for preparing your homes for me to stay during my sojourn to Ilorin.
My goons (known and unknown) who usually drop comments on different platforms
I sure cannot tell how many comments I've gathered across all platforms but I'm sure they are PLENTY.
Here is a glimpse:
…and the mails
Jibola, Aisha, Shola, Damilare Lawal and Kalu
These guys were the first set of people to comment on the blog and my joy knew no bound on seeing them.
Here:
I sincerely apologize if I Had by chance omitted your name or someone you know I should have included. I tried thinking about the journey and everyone I encountered along the way and came to a conclusion that It'd be near impossible to capture everyone, but hey, let's continue the sail!
Damilare Lawal, Babatunde Oladosu, Wasiu Isiaq and Wahab Mustapha
Were solely responsible for my trips to Osun, Kwara and Imo state respectively. Egbon Tunde, I pray you live long to see the multiplier effect of your investment in me and all your other children.
Wasiu, for those sudden alerts I get (whenever I'm on transit without even requesting), I say a big thank you.
Damilare Lawal, even when they borrow Segun Arinze's eyes, the unfortunate ones will never locate you and your company.
Wahab, that package you sent was way too much for ice cream! big ups bro.

Whats next for Nomadic Negro?
I believe close observers would have noticed I took a mild break. This was secondarily as a result of some other life issues which needed urgent attention. Primarily, I had to go learn few more skills that'd enable me give my followers better engaging contents. These moves include necessary networking; taking few relevant courses and reading a few helpful books.
Moving forward:
While I continue with my adventures here in Nigeria, Another nomad in North America (who'd be revealed soon) will give his account. Trust me, this has been planned to give you the best.
Some very few of my posts will be protected (i.e unregistered members will not be able to view them). This is not in a bid to deliberately exempt some readers but rather  because most of such posts are either not proper to appear on the home page or are deliberately fashioned for devoted members only. Others are pictures/videos which which couldn't make it to blog posts but which I'd like my readers to see. Consider this as a mixtape.
Interesting News letters (some of which might contain special gifts or offers) will be periodically send to registered readers. It is free to subscribe, but do not subscribe if you wouldn't want these random updates. I hate unsolicited mails as much as you do too, if not more.
To subscribe using your phone, scroll down to the bottom of this screen to find the free subscription bar and input just your email address.
You can follow Nomadic Negro on Twitter , Instagram and On Facebook now to get random pictures I take while on transit or random facts and discoveries I have researched.
Lastly,
4. I'm pleased to announce that the new nomadic negro logo will go live on September 11th 2017.
While I take a pause here, I want you to know for sure that you remain the only reason I keep striving to run this and will continue for as long as the support doesn't stop. Your comments, shares, Likes and donations will really go a long way to drive the movement.
Hope you Haven't forgotten to vote?
Please do so below.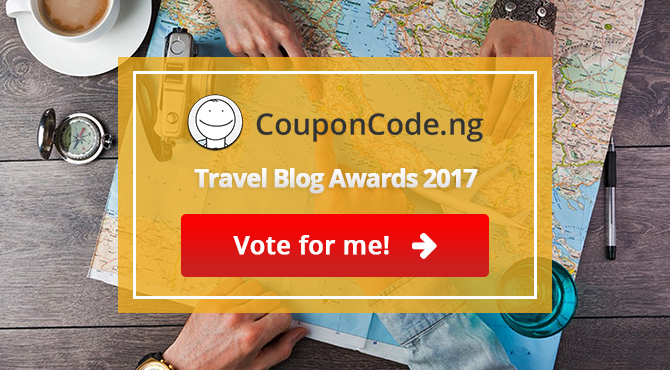 "Nobody can discover the world for somebody else. Only when we discover it for ourselves does it become common ground and a common bond and we cease to be alone." – Wendell Berry